GET YOUR FREE PERSONALIZED DEMO
Need Help Managing & Growing Your Business?
Gym management software that works for you. Made by gym owners for ambitious gym owners.
Grow your revenue
Save on management time
Top-rated customer service
POWERFUL FEATURES
All-In-One Gym Management Solution
Management & Payments Tools
Easily organise your class schedules & POS, process payments, staff & contract management.
Marketing & Sales Tools
Automations, workflows, marketing tools and a CRM designed to improve your efficiency and grow your revenue.
Retention Tools
Gain critical insights into member activity and take early action to engage and retain at-risk members.
Customer Experience Tools
Give your members the best experience, stay connected with them and get notified when needed!
Lead Generation Tools
Capture leads, nurture, and close them. Easily convert more members with automations!
FULLY CUSTOMIZABLE
Branded Platform For Your Gym
Build a strong brand and sell more to your customers. Easily manage your marketing, sales, schedules, and much more!
Sell online and let your customers book classes, renew their memberships and make purchases on their own
Build a strong brand and drive more traffic
Engage your members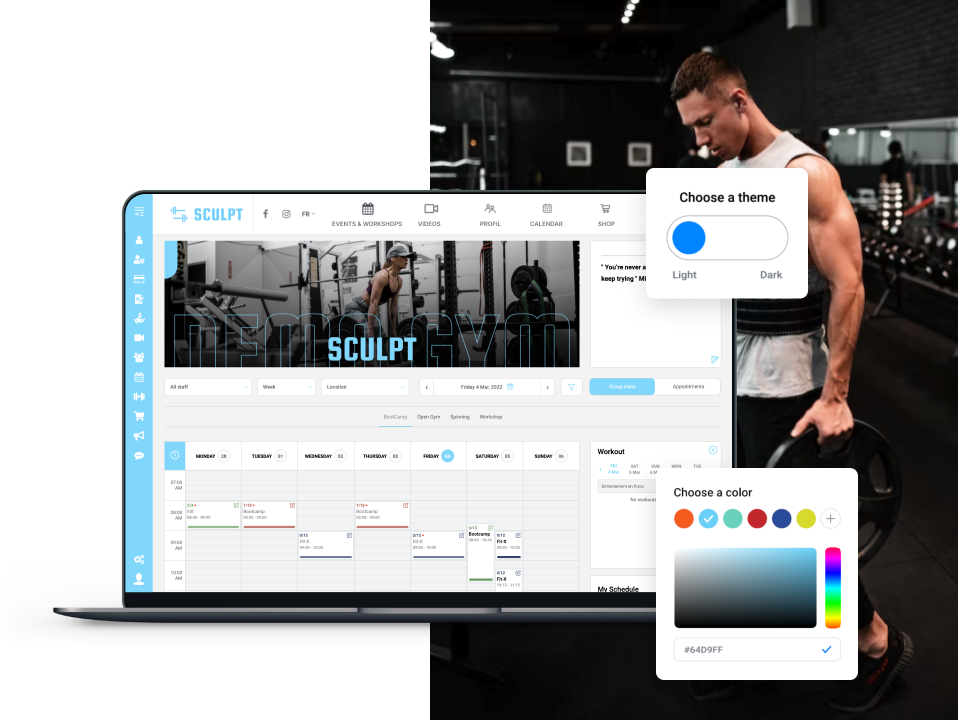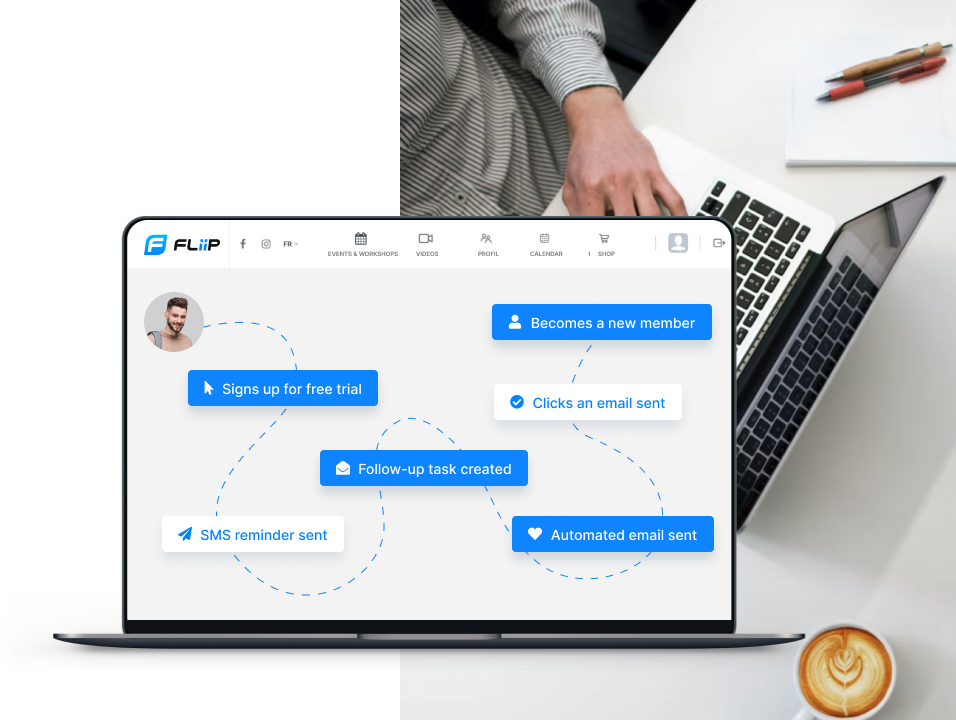 AUTOMATIONS & WORKFLOWS
Ready-To-Use Automations
Save on time and grow your revenue by using our preconfigured automations and workflows. With no effort, close more leads and retain your members!
Customer Registration Automations
Inactivity follow-ups
Reminders & notifications
DASHBOARDS & REPORTS
The Insight You Need
Get a full view of your business performance and your members' activity. Also, easily export reports to simplify your accounting.
Sales, Memberships, Services, Classes Dashboards, and much more.
Critical KPI's at your fingertips, in one click
Easily export reports for accounting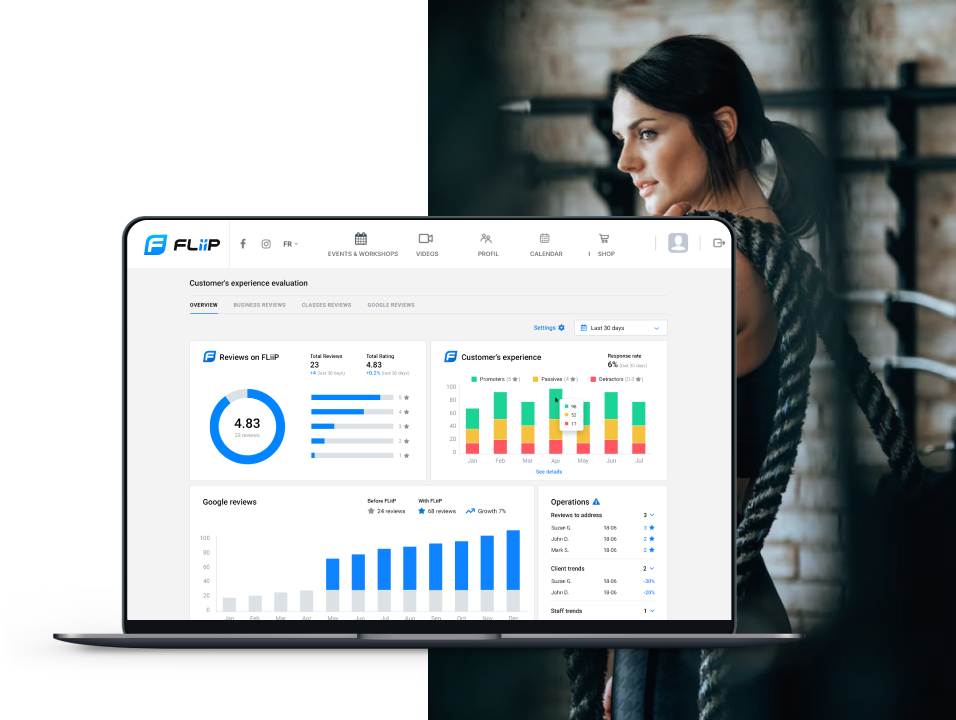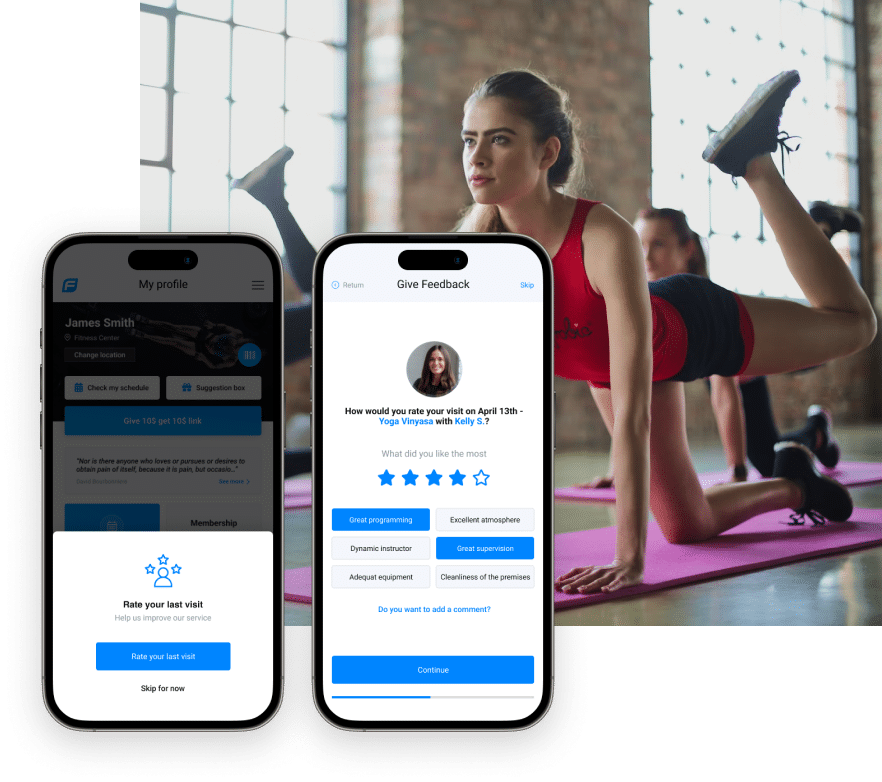 CUSTOMER SATISFACTION
Members Feedback
Monitor member satisfaction in real-time.
Members can rate their experience after a visit
Automatically convert the good reviews into Google Reviews to increase Awareness
Motivate your staff with insight to constantly improve service
SOCIALS, CALLS, EMAILS & SMS
Centralize Your Communications
All your communications from your different channels managed at the same place
Connect all your socials
Never miss a convo
Two-way messaging
Missed Call text back automation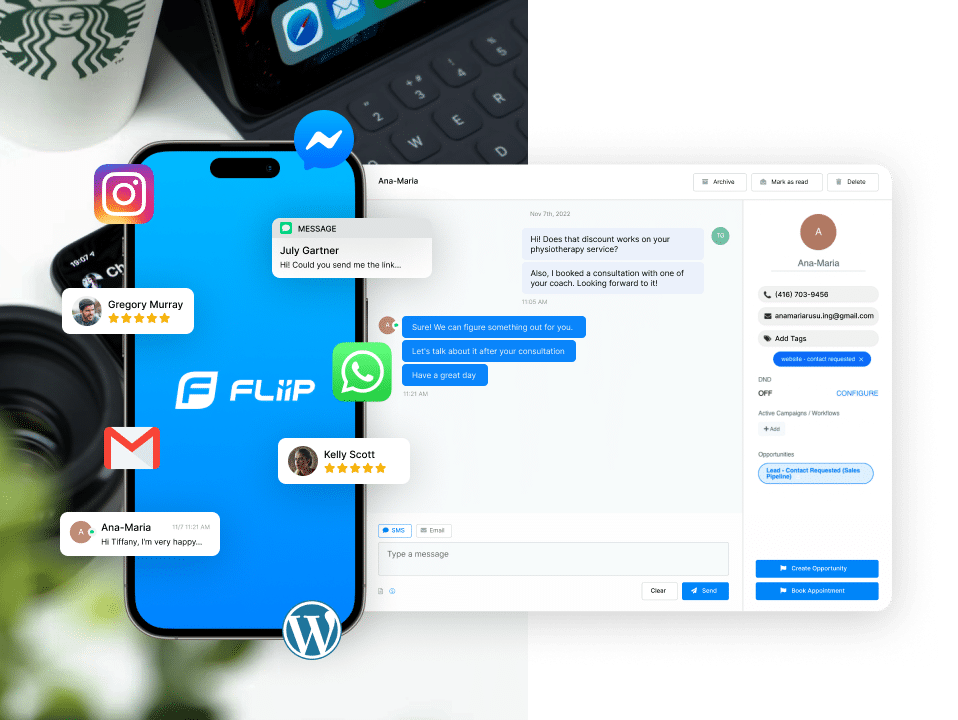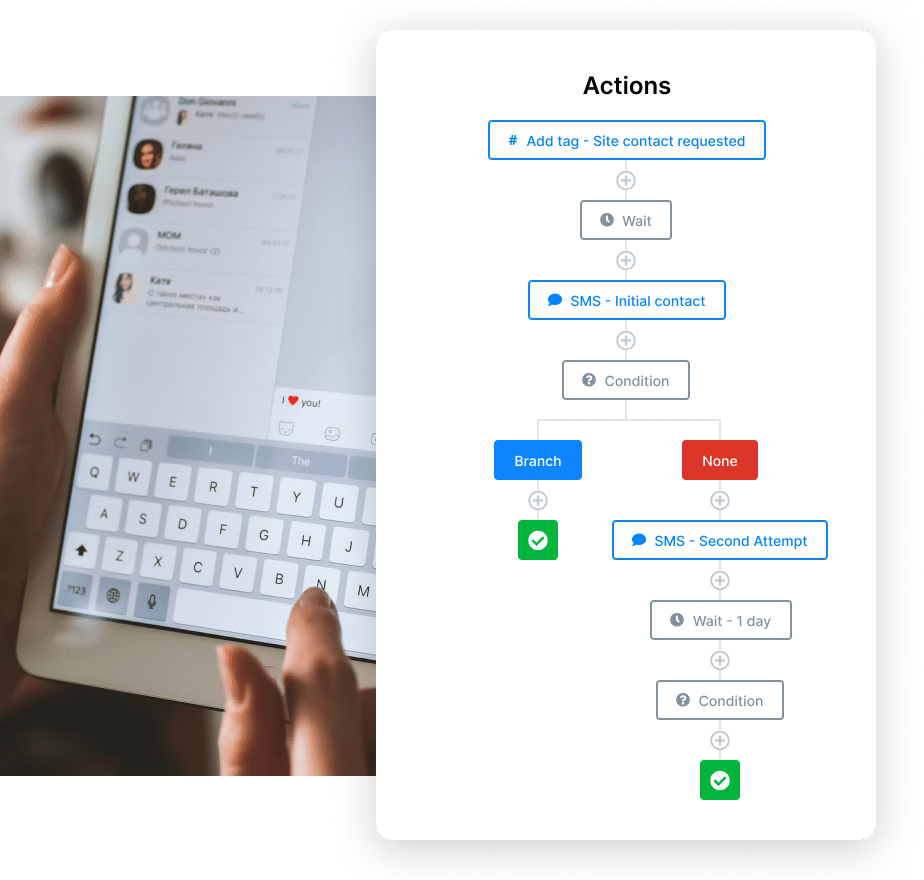 WORKFLOWS SIMPLIFY YOUR DAY-TO-DAY
Mass SMS & Emails
Start from our Pre-built workflows and create powerful workflows to engage with your customers with a personalized communication
Two-way Communication on any device
Personalized communication based on the client journey
Automate your leads journey & follow-ups
IMPACTFUL RESULTS
More reviews. More business for you.
Double your monthly review volume in less than 60 days and drive website and foot traffic to your business.
Harness the power of more reviews on Google, Facebook and more. A higher online rank will drive more traffic to your website, phones, and physical locations.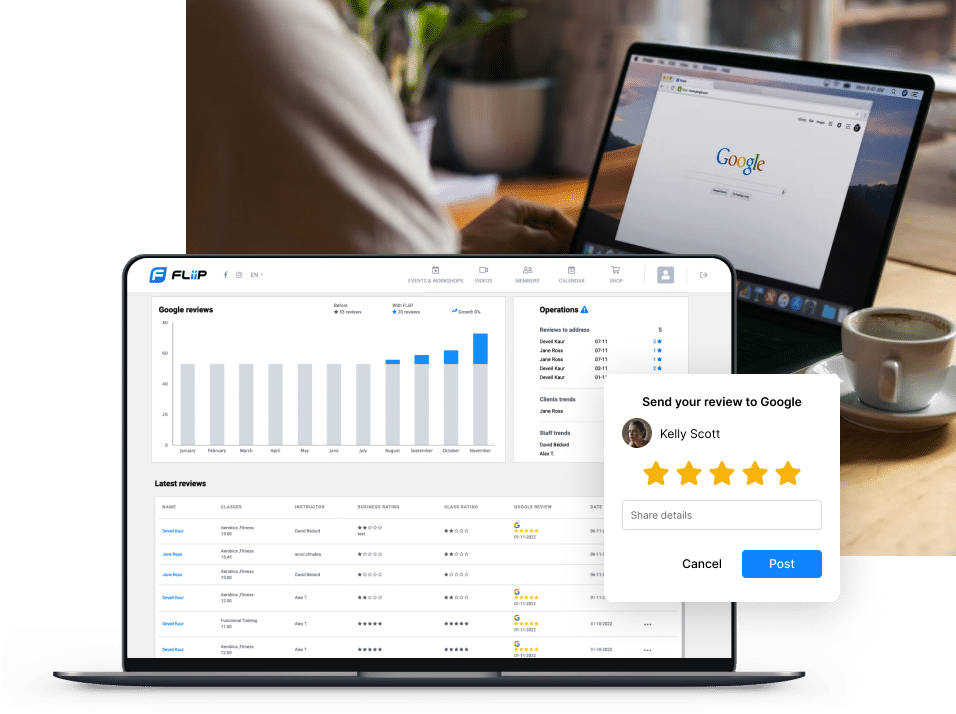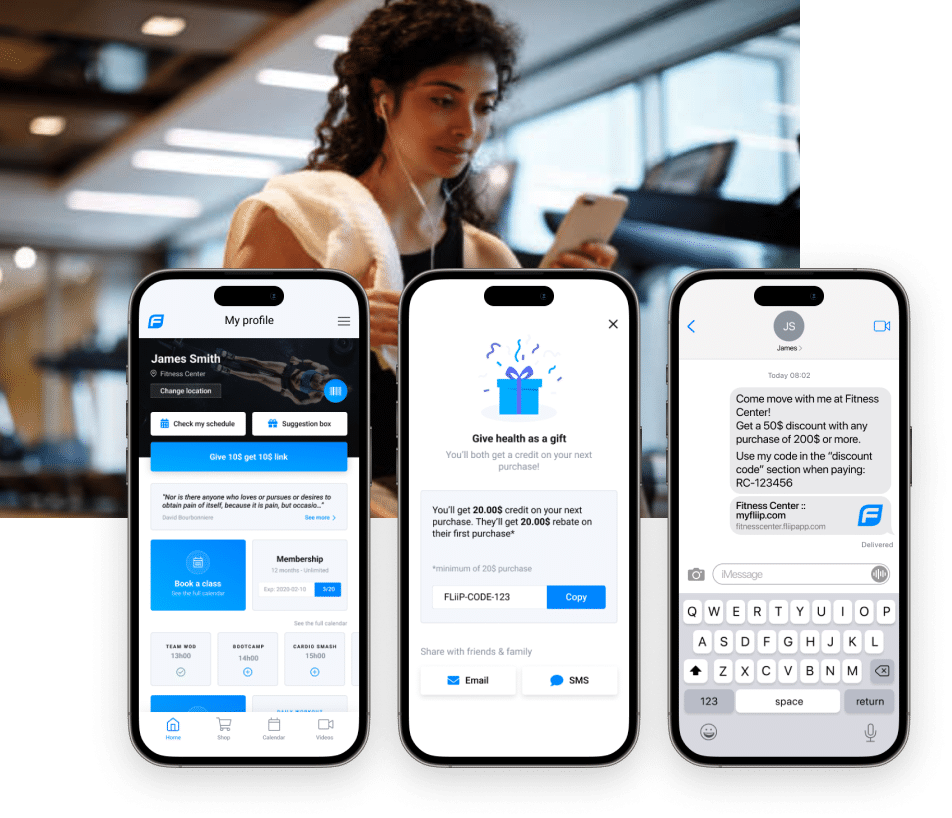 INCREASE YOUR REACH
Grow your gym community with our referral program
Word of mouth is powerful for member acquisition, take full advantage of it by rewarding your ambassadors
Incentivize your clients to spread the word
Automate Rewards for your best clients
Cost-effective way to acquire new members
TESTIMONIALS
What Our Customers Say
"The FLiiP team is always there to help me, both in the management of my platform and in the efficiency of my company. The tools I use saved me a lot of time to avoid falling into hours of mismanagement."
"We really appreciate what FLiiP does for our business. Their greatest strength is to listen to their customers and the speed of their response. The updates make me feel like they are doing everything they can to help us!"
"Making the change from our previous platform to FLiiP was obvious to us. Accessible and efficient customer service is essential to maximize our time. The economy of the monthly cost is also considerable for a company like ours."
Can I import my data from another software?
Yes, did it hundreds and hundreds of times. We have a dedicated team of Onboarding Specialists that do all the work for you. No matter where it is currently housed, we can take care of migrating the data to FLiiP in a couple of hours.
What countries are you available in?
We are available in most countries. If you aren't sure, just send us a quick message on the lower right corner.
Can someone set up the software for me?
We have a team of onboarding specialists and customer success managers who are eager to help you quickstart in the easiest and fastest way possible.
How quickly can I be up and running?
The time to beat is less than a day, so it's mostly on you, as soon as you sign up for an account, you will have access and can start going through the Setup Worksheet to get the system configured for how you want to run your gym. In-app Guided Tutorials, In-app Chat and a dedicated onboarding specialist to help you make a smooth transition.
For what type of business FLiiP is designed for?
FLiiP is designed for the fitness industry by industry expert. Whether you run group classes, 1-on-1 coaching, online classes or 24/7 gym, we will fit your needs.
All-In-One Gym Management Software